Martial Arts Marketing - Guide and Trends for 2024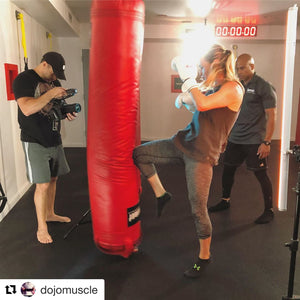 In this post, I will go over where I think trends are going for Martial Arts Marketing - and Gym Marketing for the remainder of 2023 and into 2024. 
Seasons come in, and seasons go out. And if the last few years taught us anything - everything can - and probably will change. 
Look in the mirror - that's probably changing too. Nothing remains the same. 
Marketing is constantly on an ebb and flow of old and new strategies, rising and falling over the years. 
I recently did a live workshop called Fire Your Ad Guy - At the time, I exposed how many ad agencies needed to include a considerable portion of the equation in actual creative. And they weren't - and still aren't.  
Unfortunately - they don't have an answer.
Because they aren't you - and can't speak like you.

 And now that tides are changing once again - we need to look at traffic sources that rely less on targeting and more on pull/algorithm video marketing. 
Creative like video and copy are the backbone of getting interested people - to prospect and then to customers. 
If you can't make them stop scrolling, it doesn't matter how great your offer is. They don't see it. 

So - Let's get into it. 
As AI stepped into the game, more and more processes that ad buyers relied on - became less important. Creative and video are still the most important. 
But then something happened for local ads when I finished the training. 
Facebook removed four options for their local targeting panel, making local business social media marketing ineffective and costly.  
There are still other ways to use ads - but the lead form - ad seems less effective, with lower quality leads and more costs. People seem to be returning to search, Google ads, and more organic traffic.  
Here are four strategies we are telling customers to work into their marketing for 2024. 
1) Print is back - did it ever leave? 
Digital and video marketing have been all the rage over the last few years for gyms and martial arts schools - especially paid social media ads. 
However, recently, Facebook has made some changes that impact small business owners targeting locally. 
Print will never go out of style. 
People would say that books would be dead with iPads and Nooks, but come to find out, book sales are still going up. Because print works. 
Consider that for someone to toss out your print material if they decide not to keep it or act on it - they almost always look at it still and have to handle and touch it. 
In digital marketing or with emails, a quick scroll or a delete places the message in the trash without much contact. 
Print still has some of the best ROI - if something costs $400 to print and you get even one student, which has a lifetime value of $3800, it pays for itself many times over. (120 a month, x 24 months on average stay time)
Using EDDMs postcard (Every Door Direct Mail) is an excellent way to canvas an entire zip code or postal code area in certain areas. It gets the message or print card in every door (or mailbox) in a specific location. 
Trial Cards are an excellent way to get people into and trial your program. Hand them out to members, place them by the door, give them in gift bags - and give them to friends and family all simple and easy ways to get the word out. 
Rack Cards are great to be placed at checkouts, cash registers, and other local businesses' inner foyer areas in high-traffic establishments. 
Presentation Folders or New Student Folders are a great way to present your brand, show you mean business, and give them all their initial sign-up student form documents in one sleek and impressive package. 
2) Focus on Short Form Video Content
Organic - video is outstanding. People are growing their followings by a lot - and using organic video content - specifically short-form video - to do it. 
One great thing is that most of the video footage is quickly filmed now with your mobile phone. Sure, you can upgrade to a better camera. However, your phone is still a viable option when filming a video in 2024. 
You do have to work to develop ideas and a content plan. And the key to organic marketing is to publish consistently and publish often. 
You'd have to ramp up your work output of content creation a good deal. 
The magic in reels - is that it allows you to get in front of people who do NOT know you. It is fantastic because you can get new eyes on your brand or profile - that you wouldn't usually see—with free outbound and outreach marketing. 
FB reels are untapped as well. 
Make simple videos with your phone in a vertical orientation (turn your phone a long way, not wide like a TV) - make them under 1 minute and make sure they are impactful, fun, and visually stimulating. 
Try Capcut for editing - a free online app and desktop video editor for online content. It's super powerful and accessible - you can upgrade to Pro to unlock special features, and it's worth seven bucks a month. 
3) Create and publish blog posts
We have dominated keywords for years with this tactic; it's quiet, it's unassuming, it's boring, it isn't always enjoyable, and it works. 
SEO works - search is still one of the highest ways new customers find you. Find out what keywords are good to rank for in your area (often "Martial Arts" or "fitness gym" and the area you live in (i.e., Brooklyn, NY Martial Arts) together is one good long tail keyword) (use Google keyword planner) then write articles with a keyword in it. 
The most important part is to write good articles - you may want to use AI - it's still uncertain if you will get penalized for AI-generated blog content - but try to write your stuff still, even if AI is helping flesh out ideas. Write it like how you would explain it. 
That's what they are buying anyone: you and your culture. 
4) Use Handwritten Notes
Tell customers how much they mean to you. 
I have done this, and it works great for our customers. Check out this blog post for a full run down on how to use them. 
Customers who buy this stuff love the responses they get from customers.
We live in an ultra-connected society that is disconnected. The more connections you can make with your customers, the better for you and them. 
They feel a part of something you get a loyal customer. It's hard to even put a price tag on this. It's that good. It's mom-and-pop marketing in the modern world. 
Use these tips this year to dominate your area - connect with your audience and attract prospects and new customers - while taking the best care of your current customers. 
---