How to keep more members in your martial arts and fitness business by writing handwritten notes.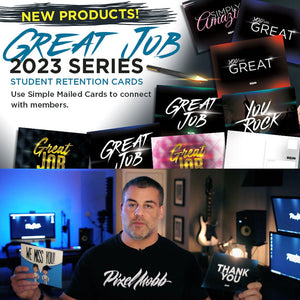 As a fitness or martial arts instructor or as a gym or dojo owner, maintaining a solid connection with your students is essential for ensuring the success and growth of your classes. 
One effective method of fostering these relationships is student retention cards and handwritten notes. 
In today's digital age, these personalized gestures can go a long way in showing appreciation for your students and their dedication to their craft. 
The saying "Great Job Goes A Long Way" is true. Taking a few minutes to express how great a member is doing or is excelling in a particular area - pays dividends for long-term connection. 
You can also use handwritten notes to reach out to a customer or member who may have left. 
The Importance of Student Retention Cards and Handwritten Notes
Demonstrating genuine care: Taking the time to write out a note by hand shows your students that you genuinely care about them and their progress. It makes them feel valued and encourages them to continue attending your classes.
Encouraging engagement and motivation: A simple note or card recognizing a student's achievements or improvements can be incredibly motivating. It lets them know that their hard work is being noticed and appreciated, inspiring them to keep pushing forward.

Building a sense of community: These personalized gestures help create camaraderie among your students. They foster a supportive environment where everyone feels welcome and included, resulting in a stronger, more cohesive group dynamic.
Tips to Get Started
Establish a routine: Designate a specific time each week or month to write out student retention cards or notes. This will ensure that it becomes a regular part of your schedule and helps to prevent it from being forgotten.

Keep it personal: Avoid generic messages or pre-written templates. Take the time to write a special note for each student, focusing on their accomplishments or areas of improvement.

Utilize milestones: Use important milestones such as promotions, competition successes, or even birthdays as opportunities to send out personalized notes or cards. This will make each message even more meaningful and memorable.

Be sincere and specific: Genuine praise will always be more impactful than empty compliments. When writing your notes, try to be clear about the reasons for your recognition and share your excitement for their progress.

Hand-deliver when possible: While mailing out cards or notes is still thoughtful, hand-delivering them adds an extra layer of personalization. This also allows you to connect with your students more personally. But it's not always easy so - find a happy medium. 

Do 5 a day - or have a staff member do them - 5 a day will take about a half hour - and it will pay off dividends over time. 

Send a thank you card right after someone signs up as a gesture of good will. 
Send out We Miss You Cards to people who have left, or haven't been in class in a while. 
Watch this video I created that goes over my process in real-time. 
I've used these cards in this business, and they work great. Everyone who gets one usually comments about it. 
In conclusion, implementing student retention cards and handwritten notes in your fitness or martial arts classes can significantly impact your students' motivation, engagement, and sense of belonging.
By showing your appreciation and recognition, you'll strengthen the bond between instructor and student, resulting in a more successful and enjoyable experience for all.
---