Martial Arts Print Marketing Trends and Tips For 2024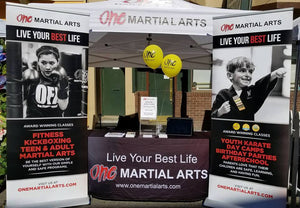 Martial arts marketing is more than just promoting your business. It's about building real connections with your audience and creating lasting relationships.
With the accessibility of the internet at an all-time high, the digital era has been a game changer in this regard. Does that mean print marketing is on its way out?
Not at all!
Despite the rise of digital marketing, the appeal of print marketing isn't lost to time. Far from it, in fact. If you're still skeptical, just take a look at these numbers from FinancesOnline:
70% of Americans like reading print mail better.

A staggering 92% of young shoppers trust the classic direct mail when making buying decisions. (And isn't that ironic for the generation who grew up entirely in the digital age?)

Here's the kicker: print marketing yields a 20% higher motivation response compared to digital ads. 
So let us reiterate: print media is not extinct.
It just found its niche in specialized corners. It thrives where that tangible touch gives it a distinct advantage.
Let's talk about print media, its role in martial arts marketing, and what the future holds for marketing as a whole.
What is print marketing?
Print marketing, as the name implies, involves marketing using printed materials. Think paper products like flyers and brochures, or stiffer material like postcards and business cards.
Anything you can print your brand on, you can use to market your business. T-shirts and mugs are also good examples.
Instead of looking at a screen, it's about giving people something they can touch and hold in their hands. You may find these as event giveaways, handed out in crowded areas, or even directly in your mailbox.
In a world where everything's gone digital, print marketing is one of the best physical marketing tools that still w great. 
The Power of Martial Arts Print Marketing
In an era dominated by digital screens, print marketing offers a refreshing change of pace. 
It's nice to have all the information you need literally in the palm of your hand. But you have to admit, staring at a screen does become a bit draining after a while. Sometimes, you just crave a break from the digital world and a chance to reconnect with the simplicity of the physical world.
This is where the magic of print marketing comes into play. The tangibility of print marketing is like a breath of fresh air in a world flooded with online ads. 
It also doesn't hurt that has a better ROI and brand remembrance than digital.
It helps you really stand out and connect with potential students and customers. 
When someone holds a well-designed martial arts brochure or poster, they're not just holding a piece of print. Instead, they're forging a connection with your business that lingers in their memory. (And, hopefully, it brings them to your doors.)
The Local Print Marketing Advantage
Martial arts print marketing is old-school, sure, but it's still got game.
People can touch them, feel them, and even smell them. Sounds weird. It still holds true. 
You could also design cool postcards to drop in mailboxes. Using EDDMs get a postcard in every single mailbox in a selected area (zip or postal code).
Check this site to learn more about EDDM service from the US Post Office. 
Everyone scans postcards as soon as they're in their hands, giving them a 100% "open rate". They're eye-catching and highly visible. As a result, you leave a lasting impression of your studio in their minds.
Here's the best part: martial arts print marketing is really good at reaching local folks. You can be all strategic and drop flyers at community hangouts, libraries, or, even better, around schools. That way, you're getting the attention of people right around the corner. 
This is good news for martial arts schools in particular. Print marketing allows you to focus on the people most likely to enroll: those in the immediate vicinity.
The Future of Martial Arts Marketing 
As we step into 2024, martial arts marketing is on the brink of a significant transformation. The comeback of print media and the evolution of digital trends are changing the game. Along with authentic short-form video aka REELS or Reel Magic :) -  creates a 1 punch for business owners. 
It's not just about flashy flyers or catchy social media posts anymore. The new strategy is all about blending the best of both worlds – the tangible and the digital. This dynamic combination opens the door to maximum reach and impact.
It's not a battle anymore; it's a partnership redefining how you connect with your audience.
In this exciting mix, print materials work hand in hand with digital campaigns. Each brings its unique strengths to the table. It's not about choosing a side. Instead, it's about making both worlds complement each other seamlessly.
---