How to use a mobile phone as a Webcam inside of ZOOM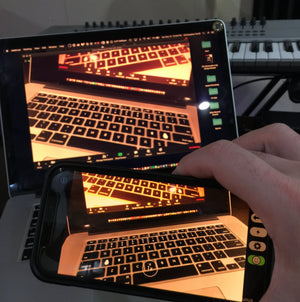 I just figured out how to use my iPhone as my webcam in Zoom.
Crazyyyy
Using a Mobile phone (iPhone or Android) as a Webcam inside of ZOOM.
Spent 2 nights testing this out. love to do more with less.


I've gotten a bazillion questions on how to use their iPhone as the webcam since all webcam pirates are sailing the high seas right now and they are all missing. Found this awesome app


It's called EpocCam


It allows you to do just that use your iPhone (or Android) as your camera for Zoom
Keep in mind the sound probably won't come on, you will need individual audio but a lot of you are already using stuff like yeti's or blue iCe' mics.


So that's cool. If not you could set to audio from your laptop if all else fails.


2. Download the EpocCam app and install it
3. Download the drivers for your system and version
5. After everything is installed (make sure you have the latest versions of ZOOM installed)
7. Startup EpocCam on your phone
8. Connect your phone via USB (you could also connect wireless but I think it slows down the image)
9. Open the app on your phone - go into the Wheel icon (settings) on the side of the app interface- set it to USB - also set the resolution to 1080p if you are running into snags and lags lower it to 720)
12. On the lower left-hand corner of the ZOOM interface, you will see Camera icon and a little drop-down arrow next to it
13. Click that arrow to drop down the menu
15. Boom - Mobile phone - webcam - IN ZOOM
Side note: This will heat up your phone a LOT - doing this outdoors in the heat is not recommended. This is not a long term solution but a - bandaid for now.
Until the damn webcam and toilet paper marauders are found and brought to justice.
Side side note: It will also eat your battery up fast
Side side side note; Share this with anyone who can use it and tag them - which is pretty much everyone.
---