Guerrilla Marketing Explained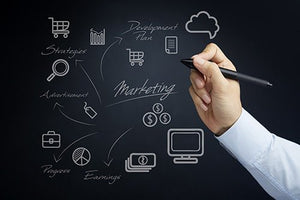 I recently was speaking to a very successful grizzled veteran internet marketer. An 8 figure earner. 
He's been in the game since the start. Back in early 2000. Before that he was into mail order catalogs. 
Which is yesterday's form of an e-comm store. If anyone remembers Columbia house where you got a whole bunch of cassette tapes for a penny.
Then you got a final bill and was like whoa! That was the old school continuity.
Today it's in a digital subscription site. 
In our conversation about sales and marketing he said something that really made sense. 
Everything is cyclical. New becomes old, old becomes new. 
He said this in his Ukrainian accent. (Reminds me of Brooklyn)
"You young guys.. all about the computer.
w. w. w. 
Back in day, it was mail order, and people to people. Like this. 2 people. Talking. 
Print will always work great. That never goes out of style.
Mom and Pop. Guerrilla.
That stuff will never, never go out of style. It will work, always.
Because people as technologically advanced they become,
will still want to just read a book,
a card or speak to a person, or maybe just hear a real voice on the other end of line. "
That got me thinking. 
Using the new stuff, with the old stuff is absolutely the secret sauce for all businesses. 
Guerrilla tactics like rack card placement, trial card placement.
Hand outs inside the school.
Hand out at events.
Door hangers, Direct Mail, Posters, Banners, Window Decals, Folders, Flyers and so many other ways to connect with a bunch of people for very little money and just some elbow grease. 
Mix that with the social media video content, ads, email list building and paid targeted traffic.
You have a secret concoction that is really hard to beat.
And one that will generate more attention than anything else. 
Online changes rapidly. Real world changes slowly.
When you have both you have it all. 
http://dojomuscle.com
---