The dark side of social media and video creation.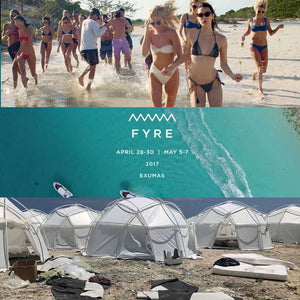 The last few days I have been laid up with some awful flu/cold/sinus thing. Whenever I am feeling under the weather, I watch Netflix.

This week I watched the Documentary on the FYRE Festival.
Let me tell you this Doc wraps up the elusive power of Video and social media.

Video and social media are THE most powerful tool in today's world. These guys were crooks to the highest power. They sold millions of dollars of tickets, cabanas, flights, and wristbands off of 1 high production video that as they put it - "sold a dream to losers."
They did it all with 1 high-quality video production. Boats, girls, parties. They sold a dream and robbed people of 26 millions of dollars!! 

And it truly shows the power of social media when a few top models shared the post, it literally went viral. People were spending 100k to get a ticket and a luxury tent. Little did they know on the other side of things NOTHING was built. The tents they were selling were Wal-Mart Tents, with plastic still around the mattresses. 

Here is the kicker. Once on the island, there was no way off, no A/C bugs galore and what these people thought when they were flying was that they were going to an ultra-exclusive island party, to only find out it was a nightmare. 

They didn't even secure an island with plumbing!

I don't want to give away the whole movie because it should be required watching for everyone. But this is the world we live in today. Where people can pretend or create something that which is not there, and a few posts from a few influencers can send it into a feeding frenzy.

This is the ILLs of social media and video it can be used for terrible things. It can be used to fake life, a persona, a lifestyle, and cheat you out of your hard earned money because you think naturally like so many of us, what you see is real. But it isn't. It's a dog and pony show.

Consider that 90% of the fitness models who are selling you, a program, a lifestyle, training are taking some form of TRT or HRT. This is the ugly blind truth. All of those jacked 50-year-olds telling you how their lifestyle has gotten them to look like this, or those shredded full VEGAN natural lifters, or those trainers who are telling you about how strong you can be, and how full you can be - are leaving out the very most important part of their diet. Testosterone shots.

Consider that most entrepreneurs and coaches are broke themselves, and are selling you programs to help you grow when in reality they can't even help themselves improve.

Consider that everytime you see anything online look at it with healthy skepticism.

This festival will probably wind this person Billy up in jail, but the real crazy part of it is at the end he was ready to do another scam. This shows you how disconnected he was and indeed a sociopath in it's most elegant form.

Video and social media can sell you so much, and it can work like gangbusters for your business. But there is a downside. People have a habit of stretching the truth.

The power in social media is we all WANT TO BELIEVE - it's almost like a magic show we know very well the guy is pulling a trick, but we want to believe it's real. Because people always want to think that what they believe is on the up and up and right.

The sheer magnitude of power abuse on social media using video is outlandish. It allows people who can't or doesn't do, - to make it seem like they do. The other side of things the magic of it is it can connect people who otherwise could never be united. So with everything, there is a give and a take and a pro and a con.

Just know when you are putting out content and videos and building your brand - make sure it aligns really with who you are and what you do.
We created videos to give you the tools to promote the benefits and the outstanding results of martial arts in our Dojo Muscle Up™ program. Every month you get videos that are crafted specifically to tell the RIGHT story. 


---