Pulling Leads Everywhere Will Give Better Results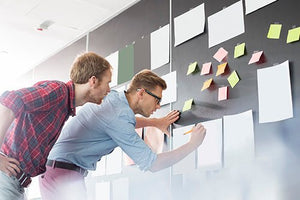 One of my friends from Brooklyn, his name was Gus (R.I.P.) Gus died a few years back at the early age of 34. Sad. 
Gus was one of those street kids. He knew everyone. Gus also had a pretty big mouth. And was quick to get into a fight.
I unfortunately had to punch Gus in his face one night because he got drunk and was acting out. 
Hey that's what friends do. Help each other. And check each other. 
Anyhow Gus always had "a guy". He had a guy for everything.
If your phone broke he had a guy, if your car broke, he had a guy, if you needed to get fish he had a guy (Yes he had a guy who sold fish from Sheepshead bay out of his trunk...!? HUh? ) 
One day Gus'  transmission literally blew up and fell out of the bottom of the truck.
He called his guy but his guy wasn't around.
So here we are sitting in the middle of 86th with a transmission laying on the ground stuck.
People blowing their horns. In this situation normally Gus would get out of it. 
Good thing was my close buddy was a mechanic who had a tow company.
I gave a ring to Shawn, he picked up and got over to us in a snap.
All the while Gus was saying "man thank you usually I have a guy for this". 
This story was in my head the other day thinking about Gus around this time of year. He was always a summer guy. Big belly with his shirt off all of the time.
And it got me thinking about something I saw recently at Funnel Hacking Live. 
Like people, and like networking, having multiple sources of lead generation and multiple sources of income is the only fool proof protection plan we have for our business.
Having the ability to pull leads from here and pull leads from there will give you much better results over time than having just... One Guy. 
Networking, and lead generation need to be on multiple fronts and in multiple ways to see real lasting success.
Dojo Muscle is committed this year to bringing it all together.
Having 1 home, 1 movement to build your martial arts school unlike anything anyone has put forward in this industry. 
Marketing that is wildly successful, modern and forward thinking, shows your value to the world, AND most of all what so many of you have told me, KEEPS your own morals and values in tact. 
It's a fun and exciting time. 
http://www.dojomuscle.com
---