Learn How To Make Killer Video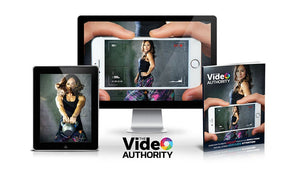 I want to be upfront here.
I am promoting my own product in this blog post. Now that we have the 800 – pound lizard out of the room.
It's not because I am the creator but because I really believe it adds a ton of value to people who are trying to create videos. Promo Muscle is about giving you solid advice and information to better promote your gym or martial art school.
We run a production company named Pixel Mobb that creates informational products for the fitness and combat sport world. Some of my colleagues thinks what we are doing is completely crazy. Like almost trying to put myself out of business. But I believe people are going to continue to harness the power of their phones and continue to do videos. So why can't we help them make better ones?
The Video Authority is a Nesta Approved product. I teamed up with my good buddy John Spencer Ellis owner of Nesta Certified to create this 6 plus hour video module training system that will get you up and running with your iPhone or Android in no time.
There is a formula to making good videos. I go over our process on how to conceptualize, organize, plan, record, edit and finish videos that will gain you massive attention.
Check out The Video Authority now. 
Video is the most powerful tool to use on social media and Facebook and Instagram specifically. The power and reach of video far surpasses anything out there for the price. Facebook just reached 100 million hours a day of video watched…. Let that sit in for a second. 100million hours of video watched… PER DAY! Reference here. That is bonkers.
There is a trend, everything is moving away from lots of copy to video telling the story and getting the message across. And it is going to continue to go that way. Visually, emotionally, and aurally video touches on all of the senses like nothing else.
This past year I had the honor to speak in front of 70 school owners at Combat Con 2 in Biloxi MS, hosted by my friend Alan Belcher. During that speech I showed my iPhone in a rig that I created with a small amount of tools.
I also wanted to open this blog post up and show you guys / girls (especially the readers who attended the combat con event this year) the equipment that is used and had with me at the event.
Here is the list below.
ALM MCAM pro Case for Iphone 5 
ALM MCAM pro Case for Iphone 6/6s
ALM MCAM pro Case for Iphone 6/6s plus
Beast Grip Pro For Iphone – Android – LG 
Imovie
Screen Flow 
Selfie Stick
LED light –
Rotolight Stealth RL48-B Professional HD LED Ringlight
You will need one of these to mount it
Rotolight Stand for RL48/RL48A for Hot Shoe Mounting Onto Camcorder or DSLR
Gorilla tripod –
This is the ball head that goes on it.
You can see the contraption I built that works really good for mobile phone videography
(so you can better position the camera when needed – easily and steadily) 
Optional Equipment – 
Tripod 
Light Stands
If you want to learn more about The Video Authority go here and check it out now.
---