5 Essential Website Features that Martial Arts School Owners Ignore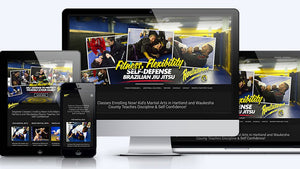 This is a guest blog from Timothy Sarazen at 97 Display it is chock full of information that can help your business grow. A lot of people still get heavily confused when it comes to the web and best practices. Tim here will help you navigate through it.
I make Martial Arts Websites
Don't fool yourself.
Unless you've been hiding in a cave for the past 5 years you know that technology is changing really fast. With these changes comes higher user expectations (source). In other words – your website visitors are becoming more and more influenced by the quality of your website, which means if your competitor is investing in his website with new technology he's getting the upperhand.
But don't kick yourself.
If you want a powerful online presence for your school you can have it. I've compiled 5 essential website features that you need to have in 2015 if you expect your website to remain relevant, rank high in search engines and produce new leads for your gym.
Blog: Consistently ranked at the top of "most influential SEO tools" blogs provide fresh content to your site that is current. Google loves fresh content, and if you're smart you can optimize your blog to index new and important keywords that you want to rank for.
But what's more is that blogs provide relevant content that your website visitors LOVE to see. If you're a martial arts school owner- you want your website visitors to know that you're school is a lively, active place with a lot going on! Blogs are the perfect way to highlight this.
Reviews: I'm shocked at how many martial arts websites ignore this ESSENTIAL page. On the 300+ martial arts websites I manage over 80% of visitors' first clicks are to the reviews page. Surprised? Don't be. Parents and potential students want to know you can be trusted, and in the age of social media positive reviews are quickly becoming requirement before users take action.
IMPORTANT: Your reviews shouldn't be cookie cutter or copied from another site. Not only will you be flagged as spam for duplicate content, but users will call your bluff in a heartbeat. Remember: honesty always wins when it comes to SEO – pretending someone said something about your school that they didn't will never help.
PS: I recommend the Facebook comment plugin for a review page platform.
E-commerce: You can buy everything else online, why not martial arts classes? E-commerce is the key to securing more qualified leads because, let's face it, even with a fantastic follow-up system some leads just drop off the face of the earth and never return your calls.
With so many shopping cart options available, you'd be crazy to not try and accept payments for something on your website. My recommendation? Allow users to reserve a trial class online for a small fee. If they've invested a few dollars they're more likely to show up AND you secure their commitment. This is one of my favorite features on a 97 display website.
Accept trial class payment online and you'll see a significantly lower percentage of no-shows. Check out this kissmetrics blog for tips on how I design checkout pages.
Instructor Bios with Photos: 80+% of my client's visitors first click to their review page- but guess where their second click is? The instructors page. Let me reiterate: parents and potential members want to know you can be trusted- and since a picture speaks a thousand words ADD A PICTURE OF YOURSELF.
My client's who have a complete instructor profile consistently see higher conversion rates on their site. No need to brag on your instructor bio- give your website visitors what they are looking for: reasons to trust you- what proof you can help them. Tell them about your 500 world championship titles once they've joined.
EASY calls to action: If you want your visitors to take action on your site (e.g. fill out a lead form) make it incredibly easy for them to do so! Clear calls to action result in more website conversions- don't leave people guessing what they should do next.
You want to guide every visitor down an intended sales funnel. Sure, some or most of your visitors won't follow it exactly- but if you a ambiguous on what you intend your website to be used for, your users won't know what they should do.
Sure- your website can be used just to give information about your services
Conclusion: Google makes it clear what small businesses need to do to stay on the cutting edge of website technology, (source) but if all these points seem overwhelming, it's because it is.
If you're a business owner you understand the importance of delegation – so if working on websites and technology isn't your cup of tea delegate it to someone you trust. Don't know if you can trust them? Ask these 10 questions to anyone before paying them to work on your website.
You can find the main article here http://97display.com/blogs/5-Essential-Website-Features-that-Martial-Arts-School-Owners-Ignore
---