Create Videos for your Page easily and quick! New Program is OUT!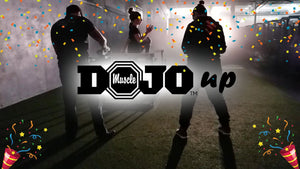 Where do you get polished videos? We have a new program rolling out that I want to tell you about real quick. It's called Muscle Up, and every month you will get new videos and graphics to use on Facebook to promote your business, and they're going to be something that no one in this industry has ever done, and no one is capable of doing. The reason being is because Pixel Mobb is a production company.
For the last decade, we have worked with some of the top fitness and martial arts people in the game. We've worked with Tim Ferriss. We've worked with Joe De Franco. I've worked with Duke Roufus and Alan. Every top school that is out there has purchased something from Dojo Muscle, be it Bushi Ban or Brannon Beliso or John Cassidy at Topkick or Paul Garcia. We've worked with everybody.
I want you to understand something. This new program, I'm excited about, because it is the program, and I make this bold claim, to end all programs. You're not going to need anything else. Here's what you're going to get. Every month, you get a brand new storyline brand awareness videos to make people aware of the problem. If it's a bully video, it's going to be a high quality, Hollywood production video shot, and that's what we do. We film Hollywood quality production videos that you could use at such an affordable price that it's literally practically me giving them to you, okay?
I'm excited about this because I know the power. I've seen the power. Over the last two years, what we have done is we've beta tested this, along with a bunch of different schools. We've had people come back to us and say, "These ads have literally gained us so many leads in so many days." One customer was actually a little bit frustrated because he had so many leads to deal with every single day. I think that's a good problem.
Every month, you get new videos that are storyline videos that are going to be fitting exactly, what Facebook is looking for. Nobody else can do this. Nobody else has done this. This is what we do for a living. This is my bread and butter. This is what excites me. This is why I'm getting excited and hyped up about it.
Every month you'll get videos. You'll also get graphics that go along with those videos to use as content in news feeds. You'll also get discounts to all print marketing. Now, print marketing is one of the best-kept secrets. I'm seeing a resurgence in sales on the print end recently, and people are using it because people still love to get tangible items. Books are selling at an all-time high right now. It has not degraded the fact people still love tangible items.
The ROI on print marketing is still better than email marketing, because if you think about it, email marketing, how many times have you been in your inbox and you go, "Delete, delete, delete, delete, delete"? When you open your mailbox, even if you throw the mail out, you still look at it. You still feel it. You have a better chance for somebody to actually grab it, look at it, read it, and maybe act on it over delete, delete, delete, delete in email. I'm not saying anything against email because email's still very powerful.
Finally, you'll get all discounts. You'll get all the new content that we put out, exclusive content, and I will give you a product that we have called The Martial Arts School Owners Video Content Creation Blueprint, which is a blueprint that takes you through exactly how to create raw videos for yourself in the light that Facebook wants, brand awareness, and story-based videos that will blow it out of the water for you, and we will be interviewing some of the top professionals in the game.
We have, right now, I just want to tell you this. We have four locations ready to shoot all month long. One in New Jersey, actually two in New Jersey, besides our home-based studio, so two in New Jersey. We have one in Florida. We have one in Washington. Actually, we have five. We have one in the UK, and it's growing, and we're going to get more. We actually are in the midst of signing an agreement for another one in New York.
There's going to be two tiers in this video, $97 and $197. The difference is simply the number of videos that you'll be able to grab each month. Actually, you'll send us your information at the beginning, and each month you'll get to choose specifically which videos you want, and we will send you those videos customized for your school.
Those are your videos. You're not leasing them. You're not renting them. Those are yours to keep. You cancel out of the program; you keep those videos. You could cancel at any time. There's no commitment. I'm not asking you to commit, simply because I want to show you how valuable this program is, and we're going to continue to deliver value across the entire year.
For every few months that you stay in the program, you're going to get bonuses and perks that nobody else gets, and here's the real kicker. We've played around with the idea of removing all videos, except the ones that are currently on our site right now for sale. All future videos you will only be able to get through the Muscle Up program. You won't be able to buy them on the site. It's only for members, and we're only taking 100 schools at the beginning, but what we're going to do is we're going to roll out a seed launch. We're going to run a contest. We're going to run a contest that one lucky person gets a full year's worth of video, full year worth of video free if you win the contest.
Now, we're going to take applications very soon for pre-sales, and the pre-sale information will be on our pre-sale site, but this is an awesome program, and it brings us all back to us. I'm so excited. When I linked up with my buddy this morning, he told me about what was posted on Facebook, and then I read about it, and I was like, "Wow." This is what we've been working on, and this fits exactly what Facebook wants. Facebook wants you to be a real person.
Remember something. Where does money come from? Other people's bank accounts. There's a person on the other end of that transaction. We need to start treating them like people and not as numbers, and not as statistics, and certainly not like $1 offers. That time has passed. That ship has sailed. You're on the precipice of a new type of marketing, and that new type of marketing can only be found at Dojo Muscle.
I hope this information has given you something to think about and given you some guidelines for you to go back and create content that will connect with people so that you can build trust, build rapport, and over time, sell to them more.
My name is Christopher Perilli. Thank you for listening to me. If you have any questions, by all means, put them in the comments below or connect with me on my Facebook page, Christopher James Perilli. I'll answer any questions for you. If you're interested in this program, connect with me. Shoot me a private message, and we'll discuss it. Thank you, and I'll speak to you soon. Bye-bye.
So Are you looking for Done For You Social Media Videos, Print Marketing, and Online Strategy every month to your inbox without hassles, that convert like crazy while making it easy to get more leads for your Martial Arts School?
---