Building an E-Mail List like a BOSS!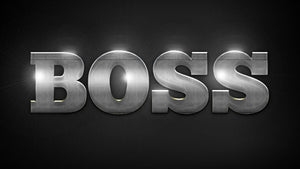 Hey Boss! Yes you.
Come on I know you love being called that. We all do.
I am going to tell you right now how to be the boss of your email list building endeavors.
We have all heard it a thousand times before. E-mails, e-mails, emails. But how many of you are actually putting it into action?
The quicker you put it into action the faster you can see a reward, or future proof your business.
Let me preface by saying this, if you think swipe files and boilerplate emails are going to have an profound effect on your business. You are being lied to. They are not. If it is your OWN created swipe file after dozen or hundreds of written articles by YOU then by all means create it and hold it dear. If the boilerplate is created by you after seeing what works for your market and what does not, make it and make it great.
But…..
YOU, right now need to start to create your OWN voice.
Sure you can use methods and principles that are tried and true. BUT ultimately the best bloggers in the world have found their own style and voice. And that is what works for them. So again using others stuff is like showing up dressed like someone else, throwing on a fake British accent and acting in a way you don't usually act. It is plastic. Don't do it. Here is what you CAN do though. This information below is from my own experience, not from theory, not from maybes but from trial and error in finding what works for me. It may or may not work for you. All you can do is give it a go.
5 things you should be doing RIGHT now to build an email list.
1) Building an email list with some sort of online email program or online school management system.
Lead generation is the name of the game and it is important you are managing your school both internally and externally. Listen I know it's tough sometimes to juggle multiple things. But lets understand something really fast. The followers, likes or fans you have on your social platforms are not yours. Let me say that again you do not own them. They are owned by the site. You are just gathering them. And at any second any of those sites can come along and decide to take them away without recourse.
SO how do you prevent this? By getting them onto your list. Once they are on your list they are yours. Google can do 10 slaps, myspace can close down and Facebook can blow up but your list is your list. No one can take that from you unless they opt out.
2) creating awesome UNIQUE content pertinent to your target and business.
This one is a no brainer, but so under utilized. If you are a master at something you should be providing content to the world using that mastery. Now I know I can hear some of the questions…How does it get me new students? How does it help me in a local area. Well directly it helps your search ranking. The more content you provide on social networks like Facebook, Twitter, and Youtube the more trackback links you will have linking back to your website. This helps build your search ranking. Search ranking is that position we all elbow and nudge our competitors for. The higher towards number one you are. The more people will find your page. The more people that find your page, the more leads you will get over time. It's more than that though. Literally when you have a video that has 30,000 views and 1000 likes, it says to the world you are a credible source of information. You know what you are talking about. It increases your credibility immediately. This can do wonders for you.
It's good to utilize opt in pages where you offer a special video, ebook, or some other piece of valuable information in exchange for their email. Youtube, Facebook, Twitter and all social media owns your likes. You DO NOT! Understand this portion of it, for any reason on any given day a social network could shut your page down. Boom. Gone. Done. See ya. Because simply they own the rights and the fans of that page NOT you. However. If you take the time to convert these fans and likes (even just a portion of them) into email list subscribers they are yours until they decide to opt out.
Google has been changing it's algorithm for some time now, recently there have been what has been known in the cyber world as Slaps. The change in algorithm has literally taken peoples business in some cases those who have created online business via older model SEO tactics and pulled the rug right from under them. Whole entire business have been closed down in a matter of minutes. Don't rely on SEO, Facebook, Twitter Youtube, Foursquare or any other social network, you MUST, MUST convert those fans and likes into email subscribers to be secured in keeping these people in your business circle.
 3) Engaging with your list
After you have a list you then need to engage with them. Create segments to further segment your list and keep people who want to hear about your bootcamp, or your kids program, in one area, and the other people like adults looking for BJJ or moms looking to lose weight in another. You don't want to say the same thing to each of those parties. They have different needs and wants. Keeping them separate makes the case that you won't offend or annoy someone in one of the other areas by talking to a Krav student about yoga.
Engagement means keeping the conversation going. Keeping the dialogue open. You can do this by blog posts, meme's, videos you share, or videos you record. All of those ways are great ways to keep the convo going. Think of all of this as a virtual party. You keep the party going by interacting with your guests. Your guests are your list members. Making the conversation interesting and appealing to the party members will help them reciprocate with their own stories (comments, shares, likes etc)
4) Telling first, then eventually selling
Using the party analogy it's important to build rapport with your party members (or your list). It would be rude to start trying to dance with your members the minute they get into your doors and haven't even taken off their coats. You want them to understand you and to trust you.
To do so you have to make sure the information you are giving is quality rich and informative, or emotional. It's important that you start to help your list first before you try to sell them anything you are looking to solicit. For instance if you run a martial arts kids summer camp a great thing to do is send out a few blog posts or videos about tips on how to keep your kids cool, and healthy this summer with some awesome recipes. Or sending them some information that shows how children stay focused with martial arts through out the summer.
Even better would be a checklist of great places to go this summer to beat the heat and under 100 bucks for the family. You offer up this content time and again and eventually you start to build trust as a source of authority in your field. After you have given a good amount then it is acceptable to promote your wares. People will take to your selling a lot better if you spend most of your time telling stories, giving tips or releasing valuable content.
5) Building credibility with your list
Finally going back to the analogy of the party, trust is the name of the game in email marketing. If you walked into a party and ran over to someone you didn't know and hugged them, you may get judo thrown across the room or punched in the mouth. Why? Well who are you to hug me? Do I know you? Have we built that trust and friendship? No. But if you did that same thing to someone you know and trust for a very long time the reciprocation would be a hug right back. This is no different than the real world. Too many people overcomplicate the social world. They TRY too hard. No one loves that guy or girl who tries to hard. Just be you. Be yourself let that come through in your content. People will love you or dislike you and that's ok, but as long as you are being you, you have a better shot at building credibility with your audience.
If they don't know you they don't trust you. If they don't trust you they won't buy from you. If they won't buy from you eventually you go broke. So what you need to do is spend all of your time building your trust. Internet marketers will have you believe that a long form email will have someone trusting you. This is all they know so this is all they push. This is false in my opinion. Trust is built on multiple planes and at various times. It starts from when they first hear of you, from what you do after and what you continue to do daily. It's not just copy or design it is everything. So make sure everything you do is trustworthy and showing how you have your markets best interest of success at mind.
There you have it, 5 tips that will have you building an E mail list in no time. Now stay tuned for our next blog post about what to do with that list once it's built.
If you enjoyed this blog post then share it or comment below. Thank you for your time!
---